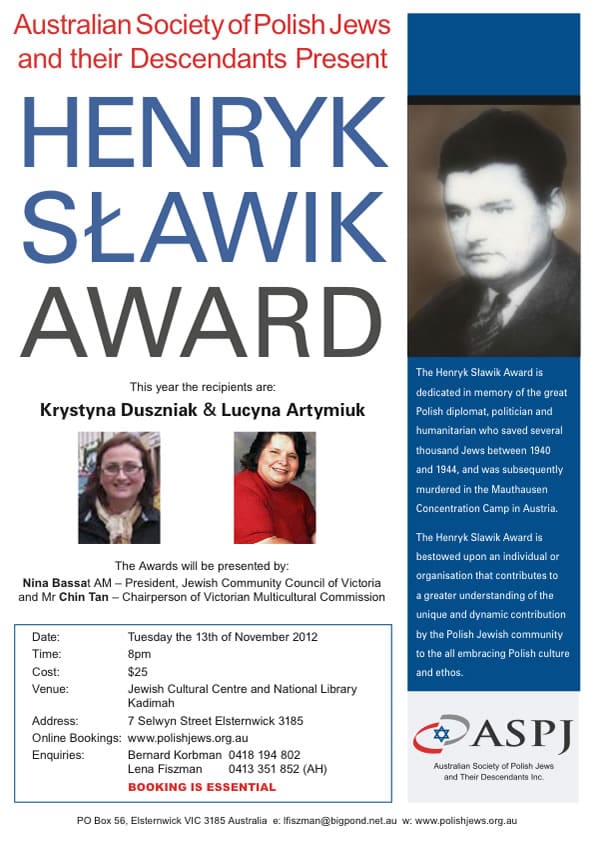 Nagroda im. Henryka Sławika jest przyznawana co roku przez Stowarzyszenie Żydów Polskich i Ich Potomków za szczególny wklad w sprawę porozumienia między narodami polskim i żydowskim. W tym roku laureatkami tej nagrody zostały Krystyna Duszniak i Lucyna Artymiuk z Melbourne.
Nagroda jest dedykowana pamięci wielkiego człowieka jakim był Henryk Sławik, polski dyplomata, polityk i humanista, który ocalił życie kilku tysiecy Żydów w czasie wojny, zamordowany w obozie koncentracyjnym Mauthausem w 1944r.
Uroczyste wręczenie nagrody odbędzie się 13 listopada o godzinie 20:00 w Centrum Kultury Żydowskiej Kadimah, 7 Selwyn Street, Elsterwick 3185.
Zgłoszenia udziału w uroczystości można rejestrować na stronie internetowej:www.polishjews.org.au
Więcej: (ulotka).
The Henryk Sławik Award is dedicated in memory of the great Polish diplomat, politician and humanitarian who saved several thousand Jews between 1940 and 1944, and was subsequently murdered in the Mauthausen Concentration Camp in Austria.
The Henryk Slawik Award is bestowed upon an individual or organisation that contributes to a greater understanding of the unique and dynamic contribution by the Polish Jewish community to the all embracing Polish culture and ethos.
This year the recipients are:
Krystyna Duszniak & Lucyna Artymiuk
The Awards will be presented by:
Nina Bassat AM – President, Jewish Community Council of Victoria
and Mr Chin Tan – Chairperson of Victorian Multicultural Commission
Date: Tuesday the 13th of November 2012
Time: 8pm
Cost: $25
Venue: Jewish Cultural Centre and National Library Kadimah
Address: 7 Selwyn Street Elsternwick 3185
Online Bookings: www.polishjews.org.au
Enquiries: Bernard Korbman 0418 194 802
Lena Fiszman 0413 351 852 (AH)
BOOKING IS ESSENTIAL